Our Restorative Dentistry Services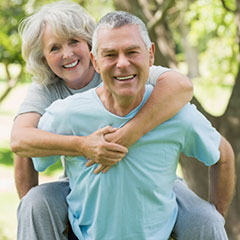 Dental problems tend to happen to everyone at one point or another in their lives, and it's certainly nothing to feel ashamed of. Instead, experience the kind, skilled touch you deserve here at Johnson Dental. Dr. Kerry Johnson and Dr. Sandra DeLeon are dedicated to providing conservative restorative solutions that are focused on preserving as much of your natural smile as possible. We make every attempt to see emergency cases the same day as your initial call, and our various amenities will be sure to help you feel comfortable and at ease as we replenish your smile's health and beauty.
Our available restorative dentistry services include the following:
Tooth-Colored Fillings
With today's advancements, patients no longer need to worry about having their cavities treated with noticeable, silver-colored materials that mar the look of their natural smile. Instead, we're happy to offer beautiful tooth-colored resin and porcelain materials for a much more aesthetically pleasing look. Dr. Johnson and Dr. DeLeon can shade your new filling to seamlessly blend in alongside your enamel while also strengthening the treated tooth by restoring its original shape. Additionally, tooth-colored fillings require less of the natural structure to be removed and are significantly less sensitive to hot and cold temperatures, resulting in a more comfortable overall feel.
Root Canal Therapy
When teeth are severely damaged due to injury or decay, it can start to feel like extraction is the only option. Here in Cypress, TX, our dental team's goal is to help you maintain your natural smile through conservative treatment. That's why we're happy to offer root canal therapy as a saving grace in these situations. During this procedure, we'll carefully access the inner chamber of the affected tooth and clean out the bacteria that have burrowed inside, thoroughly sealing the area when we're done to decrease the risk of further infection. Then, a customized dental crown placed on top can restore any structure you've lost, giving you back your complete, healthy smile. As long as they're cared for properly with diligent homecare and regular check-ups, many teeth treated with root canal therapy go on to last for a lifetime!
Don't struggle through another day with a smile that isn't at its very best. Instead, contact Johnson Dental today to arrange your first appointment and start working towards the excellent oral health and happiness you deserve! Our office is in Cypress, TX (with a second location on the way!) and we also welcome new patients from Tomball, Houston, and beyond.