Periodontal Treatment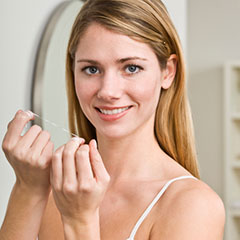 Did you know that over 75% of the American population suffers from some degree of periodontal disease (more commonly known as gum disease)? While this condition may start off relatively mildly, it can quickly lead to dangerous consequences if left untreated for too long, such as jawbone deterioration and tooth loss. Many studies have even linked periodontal disease with higher risks of strokes, diabetes, and cardiovascular disease. This is why locating and providing effective treatment for this oral health condition is so crucial for our team here at Johnson Dental. Dr. Kerry Johnson and Dr. Sandra DeLeon offer several therapy options designed to reverse the effects of periodontal disease and revitalize your smile.
How do I know if I have periodontal disease?
There are several common signs that you can check for home, including:
Gum tissue that is especially swollen or tender
Consistent bleeding that occurs while brushing or flossing
Persistent bad breath that isn't relieved with mouthwash or diligent homecare
A sudden change in the way your bite feels or fits together
Teeth that appear longer (this is a sign of receding gums)
Teeth that feel loose
Of course, it's important to remember that in some cases, symptoms of periodontal disease might not manifest until a later stage. That's why attending regular check-ups with Dr. Johnson or Dr. DeLeon is so important when it comes to preserving your healthy smile through the years.
Periodontal Therapy Options
Depending on the severity of your unique case, our Cypress, TX dental office can recommend certain treatment that should provide excellent results. When dealing with mild instances of periodontal disease, more frequent, in-depth cleanings may be enough to reverse any damage that's been done to your oral health. For more advanced situations, we also offer scaling and root planing, which will consist of thoroughly cleaning your teeth beneath the gumline and smoothing root surfaces.
Our team is always committed to bringing patients state-of-the-art tools and techniques so that their dental care experience can be as smooth as possible. That's why we're happy to now offer a soft tissue laser! While in the past, diseased gum tissue had to be cut away with a scalpel, we're now able to remove affected areas with more preciseness and comfort than ever before. Better yet, we can instantly sterilize treated spots so that bleeding is minimized and messy sutures are virtually never required. Your satisfaction and safety are always our top priorities!
Do you think you might have periodontal disease? Please don't hesitate to contact Johnson Dental today to schedule your first appointment. We look forward to helping you regain your oral health and happiness with comfortable, conservative treatments that promise exceptional quality! Our office is located in Cypress, TX, and we also welcome new patients from Houston, Tomball, and beyond.