Our General Dentistry Services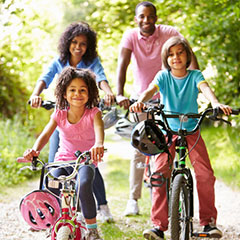 Dr. Kerry Johnson and Dr. Sandra DeLeon see patients as more than just cases – they and the rest of our team are fully committed to not only meeting your personal needs and expectations, but exceeding them. Everyone's journey towards optimal oral health is different, but they all share a vital aspect: prevention. With the help of regular check-ups and other general dentistry services, we aim to find and treat potential issues as soon as possible so that you can enjoy the beautiful, complete smile you deserve. Our Cypress, TX office sees patients of all ages, and we love welcoming families!
Check-Ups & Cleanings
In order to experience a true healthy smile for life, there needs to first be a strong foundation of prevention and good habits – and regular check-ups and hygiene appointments are a crucial part of this! It is strongly recommended that patients of all ages attend two of these visits a year, or one every six months. During your in-depth evaluation, our team will take a very close look at the surfaces of your teeth, your gums, your bite, and any other areas that we feel need attention. This will allow us to form a complete picture of your oral health and create a customized treatment plan that fits your unique needs. Additionally, a cleaning with one of our trusted hygienists will get rid of any persistent plaque and leave your smile feeling polished and refreshed.
Digital Imaging
Here at Johnson Dental, we're committed to providing our patients with the latest tools and techniques in the field for maximum convenience and comfort. That's why we use The Nomad, a state-of-the-art, hand-held device that can take detailed X-rays of your oral structures without our staff even having to leave the room. The images are then immediately visible on a convenient chairside monitor, and they can be rotated, magnified, and even color-coded for patient education. Better yet, they emit up to 90% less radiation than traditional X-rays, making them much safer for you.
Oral Cancer Screenings
While oral cancer might not be as commonly discussed as cavities or gum disease, the truth is that this serious condition claims tens of thousands of lives a year. Thankfully, the chance of successful treatment is high as long as its presence is found at an early stage. That's why it's so crucial to Dr. Johnson and Dr. DeLeon that all adults undergo an oral cancer screening as part of their bi-yearly evaluation process. During this process, we'll closely examine your soft tissue for any tell-tale signs of cancerous cells, which include persistent sores, lumps, and color changes. If any suspicious areas are found, we can arrange a biopsy procedure, which will confirm whether oral cancer is present or not.
Nightguards & Sportsguards
If you've noticed your teeth looking more and more worn down over time without any clue as to why, you may be struggling from bruxism while you sleep, a condition that's more commonly known as teeth grinding. But how do you stop an unconscious habit? Here in Cypress, TX, we can provide a protective barrier for your smile in the form of a personalized nightguard, which should prevent clenching and grinding in a comfortable manner. For athletic patients, custom-made sportsguards are also available.
Pediatric Care
Little smiles often need a special touch to feel comfortable during those early visits to the dentist's office, and we're happy to provide that here at Johnson Dental. Our team will always take their time to be as friendly and gentle as possible with your son or daughter, providing careful check-ups, cleanings, and preventive measures like dental sealants and fluoride treatments when they reach the right age. We'll also be sure to keep an eye on their developmental progress so that we can identify any potential issues at the earliest stages. We love helping children on the path towards lifelong oral health through our work!
We can't wait to give you and your loved ones new reasons to smile with our comprehensive, quality approach to oral healthcare. Contact Johnson Dental today if you have any questions about our general dentistry services, or if you're ready to schedule your first appointment. Our office is located in Cypress, TX, and we're also happy to welcome new patients from the areas of Tomball, Houston, and beyond.