Dental Implant Restorations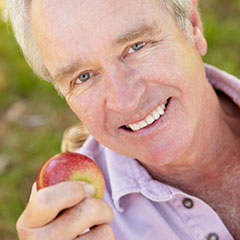 No one should have to struggle through the pain of losing a tooth alone. Not only does this event compromise your oral health, but it can also crush your self-confidence, making it difficult to even smile without feeling embarrassed. If this happen to you, please don't hesitate to reach out to our team here at Johnson Dental in Cypress, TX. Helping you enjoy a complete, healthy smile for life is important to us, and Dr. Kerry Johnson and Dr. Sandra DeLeon can get you back to that important stage with the transformative power of dental implants.
How do dental implants work?
A common problem following tooth loss is the deterioration of the jawbone. Without a tooth root in place to stimulate the area, patients can find their facial appearance becoming hunched over time due to this loss, even if they wear a denture or bridge. Dental implants are a truly exceptional reconstructive solution due to the fact that, unlike traditional tooth replacement options, they actually replicate the root of the tooth in addition to the crown, eliminating this issue altogether for patient health and happiness.
Once it's determined that you're a viable candidate for the procedure, we'll recommend a trusted specialist who can handle the surgical placement of your new implant(s). Following this, you'll need to undergo a period of healing, during which your new implant(s) will form a strong bond with your natural tissue, creating a solid foundation for your placement teeth. Finally, you'll return to our Cypress, TX dental office so that we can design and place beautiful, customized restorations, completing the procedure. The final result is so seamless that many patients forget their implants aren't natural teeth after some time has passed!
If you've experienced tooth loss, you need the warm support of a trusted dental team to help you regain the optimal oral health and lovely smile you deserve. Contact Johnson Dental today if you have any questions about our services, or if you're ready to schedule your first appointment. Located in Cypress, TX, we also serve the areas of Houston, Tomball, and beyond.